RABBIT VIBRATOR
I like rabbit vibrators. They're fun. They're cute. They look like baby bunnies. Bunnies are good and fun, right? They're soft and warm and fuzzy and have long floppy pink ears that make you want to get up close to them, pet them, and feed them carrots. Oh, wait. Those are bunny rabbits.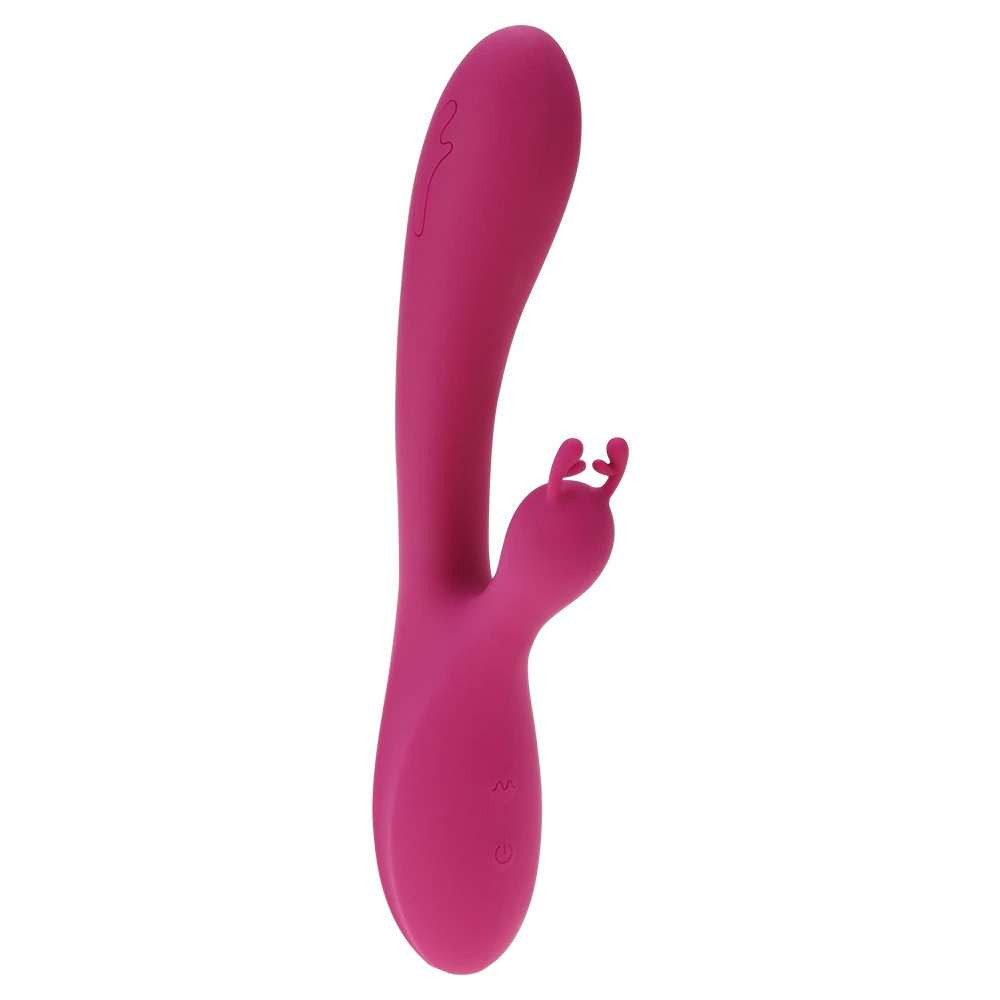 Show Filters
What is a rabbit vibrator?
A rabbit vibrator (also known as a Jack Rabbit vibrator or Jessica Rabbit vibrator) is a vibrating sex toy that is usually shaped like a penis shaft for vaginal stimulation, with a clitoral stimulator attached to the shaft. The name of the device comes from the fact that the clitoral stimulator looks like a pair of rabbit ears. The first rabbit vibrator appeared on the market in 1984 and was considered one of the classic sex toys by Cosmopolitan magazine, along with the wand vibrator.
The rabbit vibrator was designed to provide more intense sensations than more traditional dildos or clitoral stimulators by providing vaginal and clitoral stimulation at the same time. The rabbit pearl, the original device, also had a rotating section.
Since then, rabbit vibrators have evolved into a whole genre of sex toys with many different brands and variations in design, including vibrators with a less phallic shape or without a rotating bead section.
Most rabbit vibrators are phallus-shaped with a protruding arm called a Tickler, sometimes shaped like a real rabbit. Then, according to the user manual, inside the rabbit's shaft, there are encapsulated pearls that make the entire shaft rotate.
The Bunny Vibrator is a dual-action sex toy that allows for both penetration and clitoral stimulation, says sex therapist and sex educator Kristen Lilla. And according to the user manual, having both options for play allows for endless possibilities. That may explain why, after nearly 20 years, the bunny is still going strong.
Many people with vaginas need clitoral stimulation and penetration to reach orgasm, and rabbits can do both." While most women get the most pleasure from clitoral stimulation because it's more sensitive, internal pressure and vibration can also feel good," Lilla says." For many women, this combination of internal and external stimulation is what helps them reach orgasm."
What do vibrating toys do?
According to a study by the U.S. Library of Medicine, vibrations increase blood flow and improve both pelvic muscle tone and relaxation, and they're more likely to help you orgasm.
Vibrating toys come in a variety of styles and sizes, from the traditional bullet vibe to the more discreet pocket rocket. The most common are external vibrators, which stimulate the clitoris and other external areas. But you can also find internal vibrators that are inserted into the vagina or anus. Vibrating toys aren't just used for sexual pleasure — they can also be used as muscle relaxers, stress reducers, and sleep aids.
Vibrators have been around since the 1800s when they were marketed as medical devices intended to cure "hysteria" (a condition once thought to cause women's emotional problems). In the 1920s, they were promoted as a treatment for female sexual dysfunction.
The first battery-powered vibrator was invented in Japan in 1899 by Dr. Shiro Ishii; he called it "the electromechanical oscillator".3 The first electric massager was invented by Dr. Joseph Mortimer Granville in 1926; it was called "Dr. Granville's Gray Gull"4 and sold for $10 per unit5 at pharmacies across North America6 until being banned by Health Canada in 1938 because of its "potential for misuse."
How to use a rabbit vibrator?
When using a rabbit for the first time, Corrado suggests using it on other parts of your body to see how it feels. Feel it in your hands, then try your nipples, neck, or arms. Play around with the settings and buttons to get a sense of how the toy works.
Once you feel comfortable with the toy, Corrado suggests finding a comfortable place to sit or lie and making sure you feel safe and relaxed. Make sure you have some privacy and set the mood for yourself with music or candles.
Once it's playtime, make sure your toy is fully charged or has new batteries. Friendly reminder: Never use non-waterproof motorized toys in the shower or bathtub. Always lube up your toys, though, with a high-quality water-based lubricant to reduce friction. (Using silicone lube on a silicone toy can erode it and hurt your body.)
"After adding some water-based lubricant, start on the lowest power, and explore what types of genital stimulation feel good," Corrado says.
Below are a few suggestions of ways I suggest exploring using a rabbit vibrator:
Use a rabbit vibrator for external stimulation only
You can use the shaft or the external nub to stimulate not only the clitoris and vulva but also the anus, nipples, and testicles… you get the idea. If the vibration and shape of the toy feel good on some part of the body, you can use a rabbit vibrator that way. It doesn't need to be exclusively for clitoral/vaginal dual stimulation.You can use a rabbit-style vibrator this way for foreplay or for a complete masturbation session. There's no such thing as the masturbation police (thank god) so if you like it, it feels good, and it's safe, then you do you, my friend.
Two-handed technique
Just as you can use the rabbit vibrator for external stimulation only, there's no reason not to consider using both hands to pleasure yourself at once. You can use one hand to hold the handle and the other hand to hold the external nub (provided it's flexible enough to move around).
Hold the external nub instead of the handle
You don't have to hold on to the handle. You can hold on to the external nub instead so you can have more control over where you focus vibration on yourself. I recommend this method along with the grinding method.
Thrusting
I've found in my experience studying rabbit vibrators (yes, it's a job!) that if you are looking to use a rabbit vibrator for significant thrusting movement, you'll want to be mindful of what you get and learn how to best use it.A difficulty with rabbit vibrators is if you move the handle to move the shaft, that also moves that clitoral nub — and depending on the design of that nub and how you use it, it might move the nub to places you don't want. I've yet to see anyone figure out a single design that works for everyone's bodies and preferences, but there are some who come close and can do well for many people. Some toys are better designed for different body types or masturbation styles. I'll be listing some below in the "Best Rabbit Vibrator" section.
Grinding
I'm leaving my favorite technique for last. One of the most foolproof ways to use a rabbit vibrator (provided you like how it feels) is the grinding motion. Basically, after any foreplay you might do, you insert the shaft and position the clitoral stimulator where you like it (adding lube to the shaft beforehand if you need some extra lubrication). Then once you start using it at your preferred settings, you basically grind on the clitoral stimulator and can rock the shaft back and forth, rubbing against your g-spot.You can use your hand on the clitoral stimulator to add a bit more pressure or control over the clitoral nub for more precision as though you're fingering yourself but only the external vibration gives you superpowers.t's probably one of the better ways to maintain control over the toy and rub everything the way you want it, and it's how we designed the Lioness Vibrator to be.